GST Returns Filing Services in Mumbai
GST Consultant in Mumbai and Other Compliance requirements
Indian GST Act, 2017
For every supply of goods and/or services, an indirect tax is charges called Goods and Service Tax (GST). This GST Act,2017 came into force with effect from 01 July 2017. It has managed to replace previously existing various other indirect tax laws like service tax, VAT, excise, etc. GST was introduced with an objective to eradicate the cascading tax effect and to provide ease of conducting a business with an effort to push the economy as a whole.
All GST taxpayer has to file regular returns be it GSTR1, GSTR3B, GSTR9 or CMP08, GSTR4, etc. along with respective GST audits, and e-way bills wherever applicable. As all these forms are highly sensitive to amendments in laws, rules and regulation which get duly updated maintaining a constant track of them becomes difficult for a layman.
Keeping up with all these amendments and accordingly updating your records to file the relevant forms from time to time could seems like a never-ending task. Therefore, outsourcing such time-consuming and hassled task to professionals is always advisable and a smart option. At Taxcom, we provide you with an exclusive team of professionals GST Consultant in Mumbai who are skilled and completely dedicated to serve you with your GST compliance workload. This will allow some extra hours to work on your business rather than hustling for compliance.
At Taxcom, our team of professionals are highly qualified and duly equipped to handle all your various GST return filing be it the monthly or quarterly GSTR1 along with GSTR3B or in case you are a normal taxpayer; and in case you are a composition scheme taxpayer, the team is skilled to file your quarterly CMP08 forms. Along with regular forms, all taxpayers are obligated by the law to file annual returns, at Taxcom you can get a complete end-to-end service package for all your GST compliance requirements services in Mumbai.
There are many benefits of outsourcing your GST consultant in Mumbai which gives you an all-time access to your data and our consultancy team is highly qualified to provide you with an accurate consultation about any and all GST query and its regulations that you might have at all times. Also, be assured that your data is completely confidential and shared with only approved team members.
Our GST services in Mumbai are not only restricted to filing your GST returns but also extend to any corrections in your initial GST registration if needed and/or even creating a new registration in case of change in the composition of your business structure. Additionally, we also provide you with services relating to succession of any business from your predecessor, we help you to transfer such eligible outstanding ITC credits from such predecessor's GSTIN to your GSTIN. And thereafter with cancellation services for any earlier held GSTIN if that business is to be closed.
By outsourcing your GST return filing services in Mumbai and other GST compliance work to us at Taxcom, you are shall be assured to be guided via a professional team of experts at all times. Together with those expert guidance and professionalism out in to your compliance work, you must not have any problem with your GST compliances.
GST Registrations
Getting yourself registered for GST? we offer quick registration and due diligence, while you get to focus on growing your business.

GST Audit
As per regulations, taxpayers having specified turnover are required to get a GST audit done. We offer timely completion of GST audit along with complete due diligence.

GST Helth Checkup
We keep close governance on our clients' GST filing routine. This close allows us to detect whether any compliances need to be fulfilled

Tax Structuring
Allow our expertise in the industry to guide you towards the best tax planning for your business. We offer you timely advice on ITC matters, TDS/TCS matters, and RCM liability. Also matters like whether being a composite taxpayer would work for your benefit or not.

GST Refund
Taking care of your intimation and notice and refund if any would be our lookout at all times. We understand that following up with the tax authorities could become a tedious and time-consuming task; so let us do the hard work for you while you work on your business.

Compliance Support Services
GST has a long list of compliance requirements, we help you out with all those requirements like filing of GSTR1, GSTR3, GSTR9 Annual report along with Reconciliation thereof. GST compliances can become a handful of tasks, which would consume a lot of your time. Let us help you by complying with these mundane tasks for you.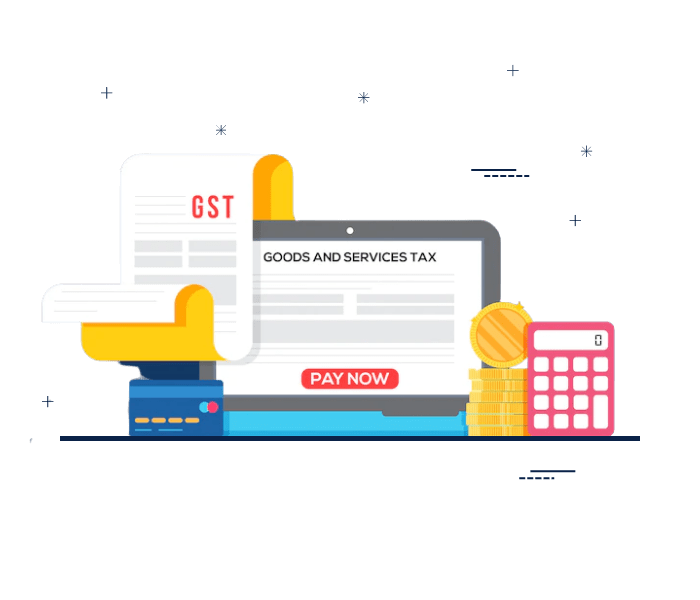 Goods and Service Tax (GST)
An indirect tax charged on supply of goods &/or services which
came into force w.e.f. 01 July 2017. It replaced many other indirect tax laws like service tax, VAT, excise, octroi, etc. that previously existed in India. Every GST taxpayer has to file regular returns like GSTR1, GSTR3B, GSTR4, etc. along with annual returns, GST audits, and e-way bills wherever relevant.
OUR GST Services in Mumbai